Motorcycle Maintenance is important to keep your bike in tip-top shape (duh!), and it doesn't have to cost an arm or a leg.
Here are some simple tips (updated seasonally) you can do at home to keep your bike purring along. The upside: having your bike happy means a safer bike for you to ride. That equals a win-win in our book!
And should you get stuck, need a part, or need us to take up where you left off, we're here for you to #atFXCHD ✌
"Motorcycles have always been dramatic. They are not for everybody and never will be. This is a product that people can take to an extreme as a means of self-expression."
Willie G. Davidson
5 tips for great Autumn Rides
Anyone who has lived in the Northeast during the three months of Fall knows that Mother Nature puts on one hell of a show! And the predictions for 2019 are that it'll be an Awesome Autumn up in the Adirondacks.
Some of the best riding of the year can be had in the vast Adirondack mountain wilderness to the east of FX Caprara Harley-Davidson. The vistas that now have blazing orange, red and yellow can be breath-taking. 
Looking for New Roads to Ride? Get with the

FX Thunder H.O.G. Chapter

or check out

GoTourNY.com
But before heading out to fall in love with all the Fall colors, here's a few tips to take with you down the road:
Pay particular attention to your tire pressure (cooler temps can cause the pressure in your tires to go significantly lower!) and your lights (all the better to see and be seen with!).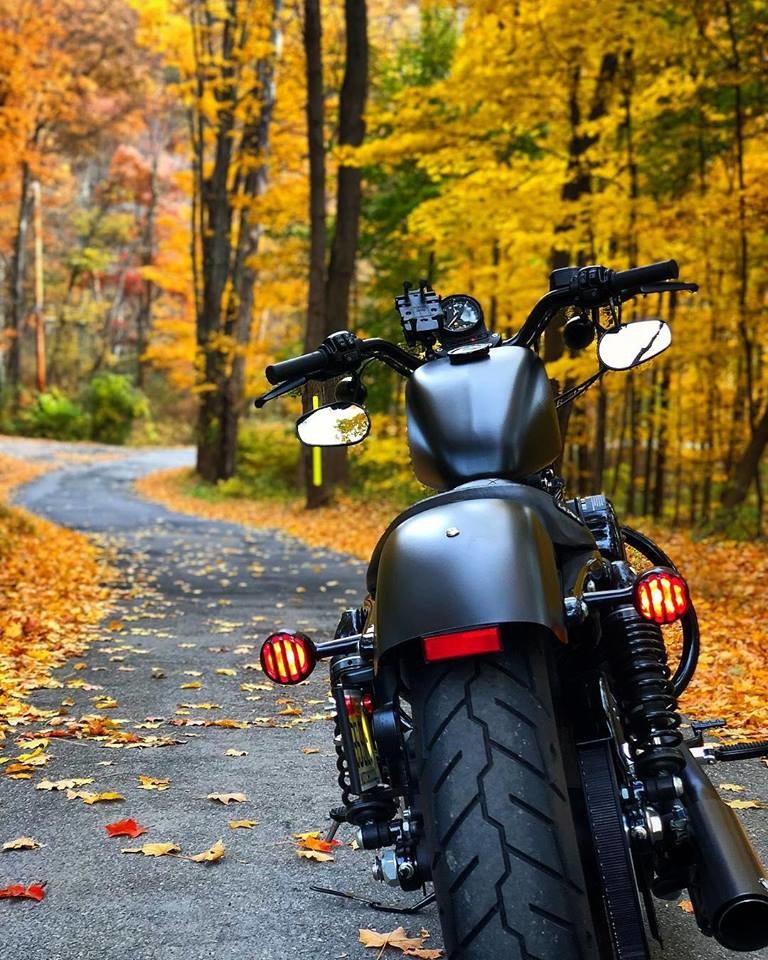 • Check the Weather
The weather in the valley can differ greatly from what they're getting up on the mountain, so check all the points you plan on riding to know before you go. Plus it never hurts to take your Rain Gear.
• Look cool, but stay warm
It might be warm when you start out, but things can quickly change so you'll want to layer up. A good base layer (Harley-Davidson's FXRG line is good to start), wind proof jacket (in a pinch you can use your rain gear b/c waterproof = wind proof), chaps and a good Leather Riding Jacket with a removable liner is just what I've been recommending for years.
Neck gators, 3/4 or full face helmets, and insulated gauntlet gloves will complete your look -plus help fight against the cold. And a 'Hi-Vis' top layer will help you be more visible to the cagers.


• Be aware of the Road Conditions
Leaves gathering on the asphalt and in turns, wet pavement, slick 'tar snakes', frost & fog, etc., etc. -watch for these potential hazards and plan ahead for how you'll ride through or around them as necessary.
Let's not forget increased traffic -thousands of tourists come from all around the world to enjoy Autumn in the Adirondacks. Leave yourself enough of a 'cushion' so that they'll have more time to see you -not that they will... When you see someone waiting to turn left and they're going to cross your path, take that as an immediate threat to you! Slow down, cover your brakes and prepare to take evasive action.
• Please Deer, not tonight
The fall months mean it's that romantic time of year for our furry four-legged friends as well!! That, along with the fact that farmers are out in the fields harvesting their crops, means deer are more active.  
Best advice is to ride during the day only..... but that's not always doable so when you have to ride at night, go at the speed limit or slower (within reason) and stick to the main roads (as opposed to the back country roads for obvious reasons). For more deer avoidance tips, check out this Common Tread Post