Your Clothes Call
Our MotorClothes® specialists are always ready to assist you. They have been specially trained in fitting helmets, leathers, glasses, gloves and all the necessary riding gear. We will spend as much time with you as needed to ensure that you are completely satisfied, and leave knowing that your MotorClothes® specialist took care of you - and will continue to do so in the future.
Our goal is to create lifetime customers out of each individual who walks through our door.
While you're here, be sure to check out our GM Featured Products Page -updated monthly.
fx Caprara Harley-Davidson® Dealer T-Shirts
Can't drive all the way to our location? We ship anywhere in the continental U.S. and APO/FPO! Call our dealership at 315-583-6177 and ask for the MotorClothes® Department. Or contact us online to get your hands on one of our T-shirts.
Whatever your journey, we have the gear to get you there. Designed with you in mind, our range is tailored for safety, comfort and confidence, from classic leather jackets and helmets to eyewear and gloves.
HELMETS
Helmets are the most important piece of safety gear. Statistics show that correctly fitted and worn helmets dramatically reduce the incidence of fatal head injuries, so it's essential to get the right one for you.
So why not come in and see us and we will check your helmet for fit, age and any damage.
LEATHERS
Our leathers are designed to give you exactly what you want, on and off the road, and include both modern and more vintage styles.
Born from a proud tradition of performance, our leathers will stand the test of time. These high-quality hides are dyed completely through the leather, so even if you scuff them, they continue to look great.
Come in store to find out more
PERFORMANCE SPORTSWEAR
It's essential you look good off the bike and feel good on it, so we have developed a wide-range of Performance Sportswear which can act as the perfect bottom layer when you're out riding.
Incorporating the latest technologies, our Performance Fabrics help regulate your body temperature, keeping you cool, dry and fresh throughout the day.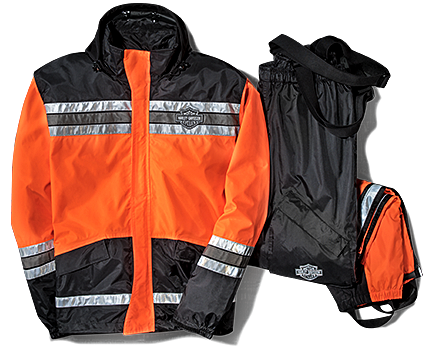 SAFETY ESSENTIALS
Whatever the weather, these are must haves for safe riding. Whether it's about remaining comfortable when the weather's against you or being seen by other road users, our riding gear incorporates the latest technologies to provide you with all the protection you need for a safe ride.
From our heated clothing and cooler mesh riding jackets to our range of Hi-Vis waterproofs and outerwear, we will make sure you can continue riding in any climate.